Salsa Style is more than a look; it's a lifestyle. Salsa style reflects a return to basics, where families live, dine, and entertain at home. The feel is comfortable, spacious, and welcoming: where you feel free to rest your feet on the coffee table, sip wine on the sofa, or lose yourself in an oversized club chair.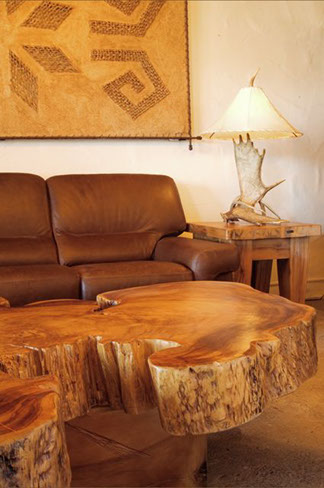 Salsa Style reflects California's heritage, mixing the flavors of Spanish colonial and early ranch with Native American and Mexican influences. It emphasizes craftsmanship captured in timeless, one of a kind handmade pieces.
Husband and wife team Edna Hayes and Bruce Needleman, owners of Salsa Trading Company create their own designs, which are handcrafted by families in Mexico and India. Their design philosophy is simple: "Bigger is better and less is more."
Many pieces are custom designed, and elements sought out for individual customers. For instance, they scoured the United States and Mexico in search of an antique counter, which they located in an abandoned general store and transformed it into a spectacular bar a client's home.
Salsa offers hand-rubbed leather upholstery, one of a kind wooden furnishings incorporating recycled woods and antique doors, hand forged iron works, and furniture made of stone.
"Salsa Trading Company is not just a design resource, but a lifestyle shopping resource," says Needleman. "We rarely see a customer just once."